Welcome To
OTTAWA CIGAR EMPORIUM
EXECUTIVE CIGAR GIFT SHOP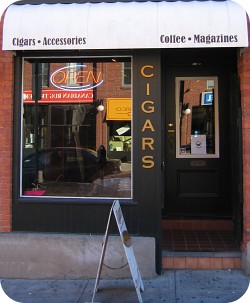 A world-class selection of cigars is available from Cuba, Dominican Republic, Nicaragua and Honduras. Ottawa Cigar Emporium offers the largest selection of pipes and pipe tobacco in Ottawa. A wide variety of humidors, cigars and pipe lighters, wine accessories and gift ideas. Located in the heart of the Byward market.

              CANADA DAY CLOSED !
         ******  BUSINESS   HOURS ******
  Tue.----- Sat.    10:00 am ---- 6:00 pm
   Sun. & Mon.      Closed
              ------ NEW ARRIVALS ------
   ROMEO Y JULLIETA 2018 LTD ED. IN STOCK !!!
COHIBA  2017  Ltd. E.  'TALISMAN '  IN  STOCK !!!
  BRIZARD Premium Accessories In Stock.

 DIPLOMATICOS  EXCLUSIVO CANADA In Stock !


Dunhill Cigars In Stock!!!(The only one authorized retailer in Ottawa)
Dunhill Aged Cigars ( Best Dominican Brand of 2013)  (out of stock )
Dunhill Signed Rang ( Top 25 Cigars of 2007 & 2012)  (out of stock )
Dunhill 1907   churchill         ( New in 2014 )
BOVEDA   In  Stock
******   VINTAGE CIGARS IN STOCK   ******
VEGAS ROBAINA  -----  ALEJANDRO       2002
SANCHO PANZA  ------- MOLINOS          2001
San Cristobal ------- El  Morro                2001
Punch--------- Royal Selection No.11      2000
Davidaff 2003 Ltd.Ed.
WHAT'S   NEW  
COHIBA 40 YEARS LEATHER HUMIDOR
COHIBA 50 YEARS CUTTER & LIGHTER

COMING SOON
Bookmark our web site!!!
New cigars arriving all the time!!!